—HOW LONG
DO I PRACTICE
BEFORE
I BECOME?
Boundary Objects
social space, exhibit
2020
Jeff Kasper, scaling vulnerability (2019). A blurry hand slides a bead along a minimal bar scale set on a black table. The location of the bead is hard to discern. Below numerous positions on the scale are words set in white: "Avoidance" "Competition" "Compromise" "Accomodation" and above, "Comfort". At either end of the scale are the proxies "You" and "I".
Jeff Kasper, wrestling embrace (2020). A soft leathery black exercise mat is glazed with blue light. Strewn about are black cushions as if recently occupied. At the center of the mat is a circular graphic with numerous phrases like "navigate by touching" and "relax" that correspond to the proxemic distances of personal space and intimacy.
Jeff Kasper, calm cube (2020). A blurry figure dives into the "calm cube" a daybed-like structure composed of intersecting black bars, pillows, foam cusions, and draped in white fabric. The image is softly tinted with a lavender haze. On the wall behind the figure is a text. It reads: "Be a calming agent. Regardless if you seek to resolve conflict with your partner or you are dealing with your own conflict, your response can escalate or decrease the intensity of the problem. To be calming, provide an objective or neutral point of view. Encourage the formation of an actionable plan to work together and achieve a resolution."
—SOMEWHERE INBETWEEN COMFORT AND VULNERABILITY

Boundary Objects was a temporary social space for navigating interpersonal boundaries, recently exhibited at Herter Art Gallery, University of Massachusetts Amherst.

Visitors were encouraged to use the exhibition to slow-down, rest, and practice playful 'choreographies of support' that can be applied to real-world conflicts, conversations, and collective situations.


---
Listen to the audio guides:

Give & Take Care
social space, workshop
2019—ongoing
—WHAT MAKES YOU FEEL SAFE?

Give & Take Care is an iterative social space for dreaming strategies of recovery from harmful relationships and cultures of normative love.

The low-light sensory space offers time to practice safety and consent with others. Accompanying programs are designed with participants and guest organizers to offer context specific tools for exploring care, conflict, and accountability. Visitors are encouraged to bring a partner, friend, accomplice, or feel free to participate solo in the many lounges for play, napping, holistic nervous system health, and reading.

Give & Take Care features a non-circulating library on contamplative arts, queer sexuality, and disability culture.


---
Recent interations:
University of Massachusetts (2020)
Downtown Art Theatre (2019)
---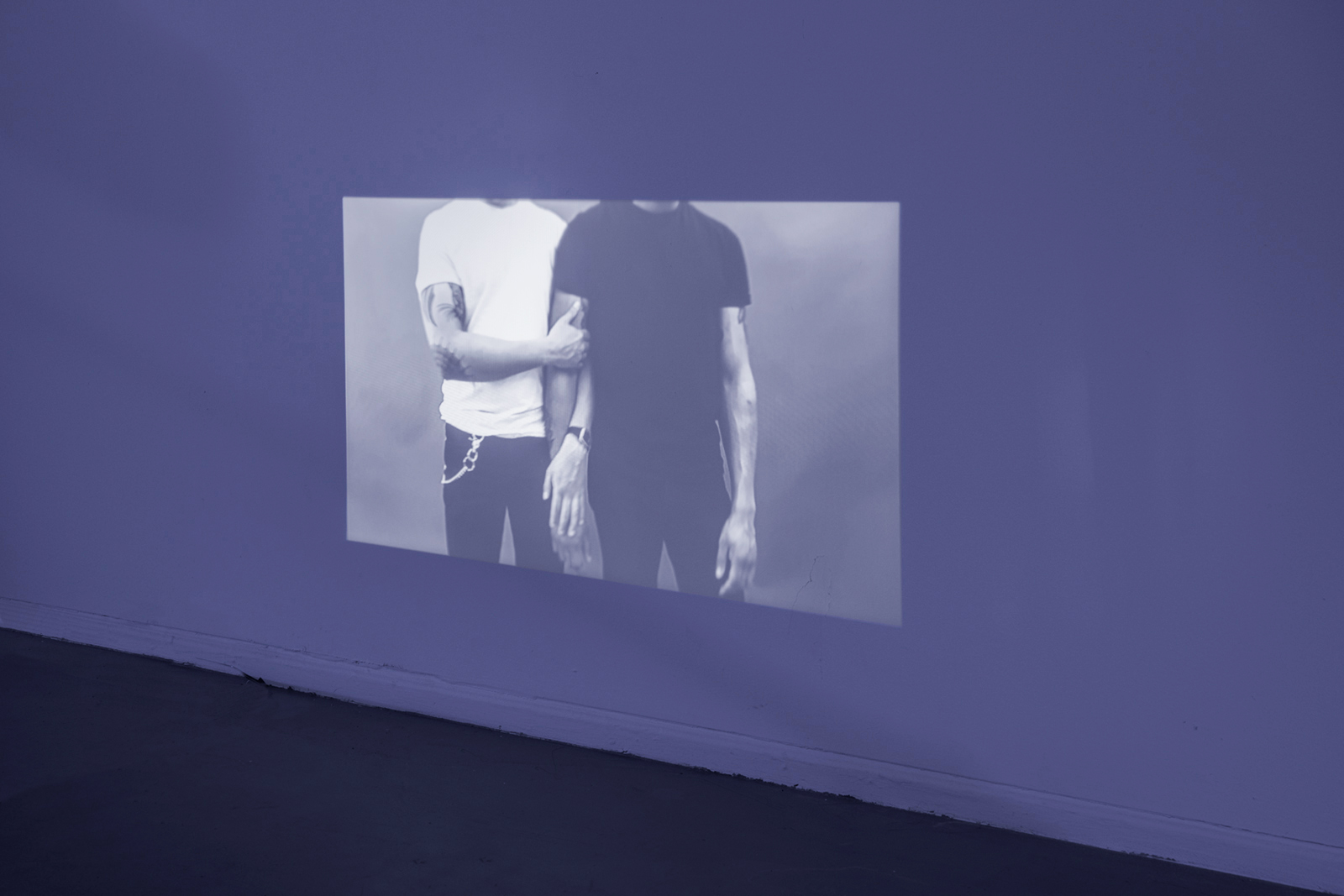 lessons (vol. 1) [directors cut]
in
Boundary Objects: New Works by Jeff Kasper
, at Herter Art Gallery in 2020. A greyscale video projection is viewed on an angle. A purple washed wall depicts a still frame of two male presenting figures with various tattoos. They are standing with faces off-frame. With the camera focusing only from neck to knees, in a side-to-side embrace, they have arms tangled. The figure with a white shirt extends his right arm to hold the upper-arm of the other in a delicate but firm grasp.
lessons (vol. 1) [directors cut]
in Locus: Art as a Disabled Space at The 8th Floor, New York, 2018. A female presenting figure with long black hair and a pearl white sweater sits alone on a wooden bench and views a video-projected image, white text on a darkened wall, that says: "closeness is in the loss of embrace."
detail from
lessons (vol. 1):
two performers extend their arms, reaching out into a grey void, only for their hands to barely touch
.
—CLOSENESS
IS IN THE LOSS
OF EMBRACE
After a sequence of white numbers appear on black background (001 to 018) a series of moving portraits appear. Filmed in black and white, two male presenting figures dressed in neutral colors stand very still in front of a grey backdrop. With faces obscured off screen, the subjects are only visible from the shoulders to the lower legs. After each number appears, the film jumps to a black screen before depicting footage of the two men performing a series of dramatic, intimate gestures that include hand-holding, lacing fingers, and embracing.
As the film progresses the duration of each recorded scene gets shorter and shorter, creating a fragmented glimpse of each gesture at varying lengths of time and at varying distances, while cutting to black at faster intervals. In some scenes the viewer sees hands and fingers close up while at other times the camera focuses on the movement of appendages closer to the torso and the chest. Three times during the film there is an error, numbered "000" followed by footage of the men caught off guard and arguing as if in-between scenes. After 10 minutes and 11 seconds the film ends, and repeats only to depict written descriptions of the gestures previously performed.
Download the score
Watch an excerpt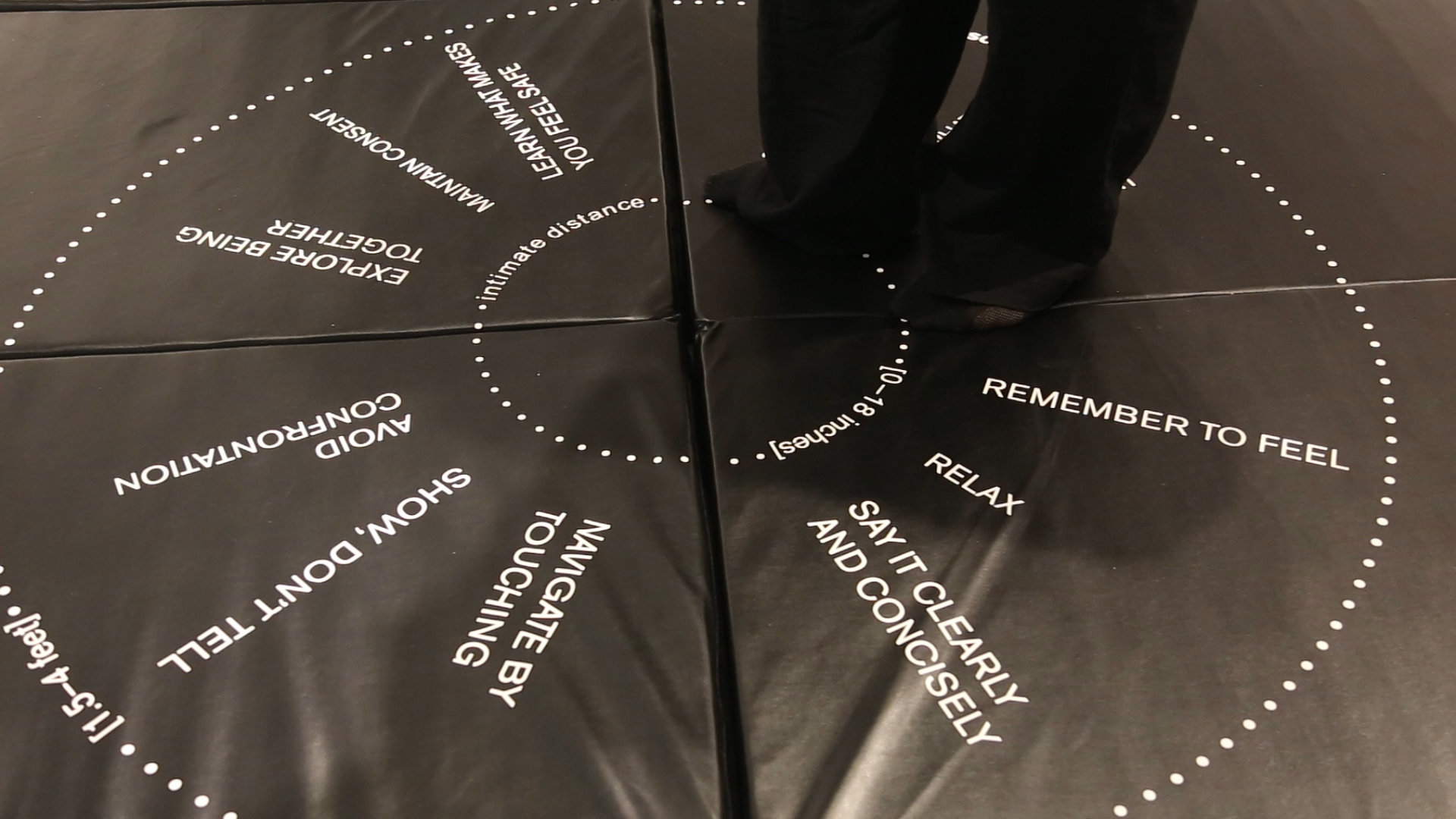 ---
Two figures wearing black and white sit with legs-crossed, facing each other, hand-in-hand on exercise mats (10'x8'). Nearby are an adjustable deck of black and white playing cards with various texts on the front and knot illustrations on the back. Other materials include: assorted bells and time keepers.
---
—INTIMATE DISTANCE
IS THE SPACE OF WRESTLING AND LOVE-MAKING, ANXIETY AND EMBRACE
wrestling embrace
is a customizable workshop framework composed of a game, interactive arts-based exercises, and soft sculpture.
Designed for navigating questions of consent, conflict, and caretaking in interpersonal relationships—the platform utilizes physical contact, guided contemplation, and embodied practices with a partner. Primary materials include a deck of playing cards (audio and SMS version forthcoming) and acompanying exercise mats.
The soft mats feature a circular design organized around two proxemic distances: personal space [1.5-4 feet] and intimate space [0-18 inches]. Each unique exercise offered on the cards, fosters quiet time for building mutual support by practicing clear communication and collaboration.
---
Email

to learn more, join or schedule a short workshop, day long session in your classroom, or a multi-day intensive. All events operate as confidential queer/trans/crip peer-support circles outside of clinical spaces.
---
Jeff is able to travel locally in the Northeast United States with 1-2 month notice and nationally or throughout North America with 2-3 months coordination with partnering groups or organizations. Work with institutions is funded through grants, honorariums, travel stipends, in-kind donations, and barter. All workshop fees are sliding scale—pay what you can.
---
Recent workshops:
University of Massachusetts Amherst (MA) - Feb 2020
OCAD University (ON) - Fall 2019
Downtown Art (NY) - May 2019
Cooper Union (NY) - Spring 2019
Queens College (NY) - Fall 2018 & Spring 2019
Elizabeth Foundation for the Arts (NY) - Summer 2018

Upcoming public workshops:
Cleveland Institute of Art (OH) - Fall 2020