—HOW LONG
DO I PRACTICE
BEFORE
I BECOME?
lessons (vol. 1) [directors cut]
in Locus: Art as a Disabled Space at The 8th Floor, New York, 2018. A female presenting figure with long black hair and a pearl white sweater sits alone on a wooden bench and views a video-projected image, white text on a darkened wall, that says: "closeness is in the loss of embrace."
detail from
lessons (vol. 1):
two male performers extend their arms, reaching out into a grey void, only for their hands to barely touch
.
—CLOSENESS
IS IN THE LOSS
OF EMBRACE
After a sequence of white numbers appear on black background (001 to 018) a series of moving portraits appear. Filmed in black and white, two male presenting figures dressed in neutral colors stand very still in front of a grey backdrop. With faces obscured off screen, the subjects are only visible from the shoulders to the lower legs. After each number appears, the film jumps to a black screen before depicting footage of the two men performing a series of dramatic, intimate gestures that include hand-holding, lacing fingers, and embracing.
As the film progresses the duration of each recorded scene gets shorter and shorter, creating a fragmented glimpse of each gesture at varying lengths of time and at varying distances, while cutting to black at faster intervals. In some scenes the viewer sees hands and fingers close up while at other times the camera focuses on the movement of appendages closer to the torso and the chest. Three times during the film there is an error, numbered "000" followed by footage of the men caught off guard and arguing as if in-between scenes. After 10 minutes and 11 seconds the film ends, and repeats only to depict written descriptions of the gestures previously performed.
Download the score
Watch an excerpt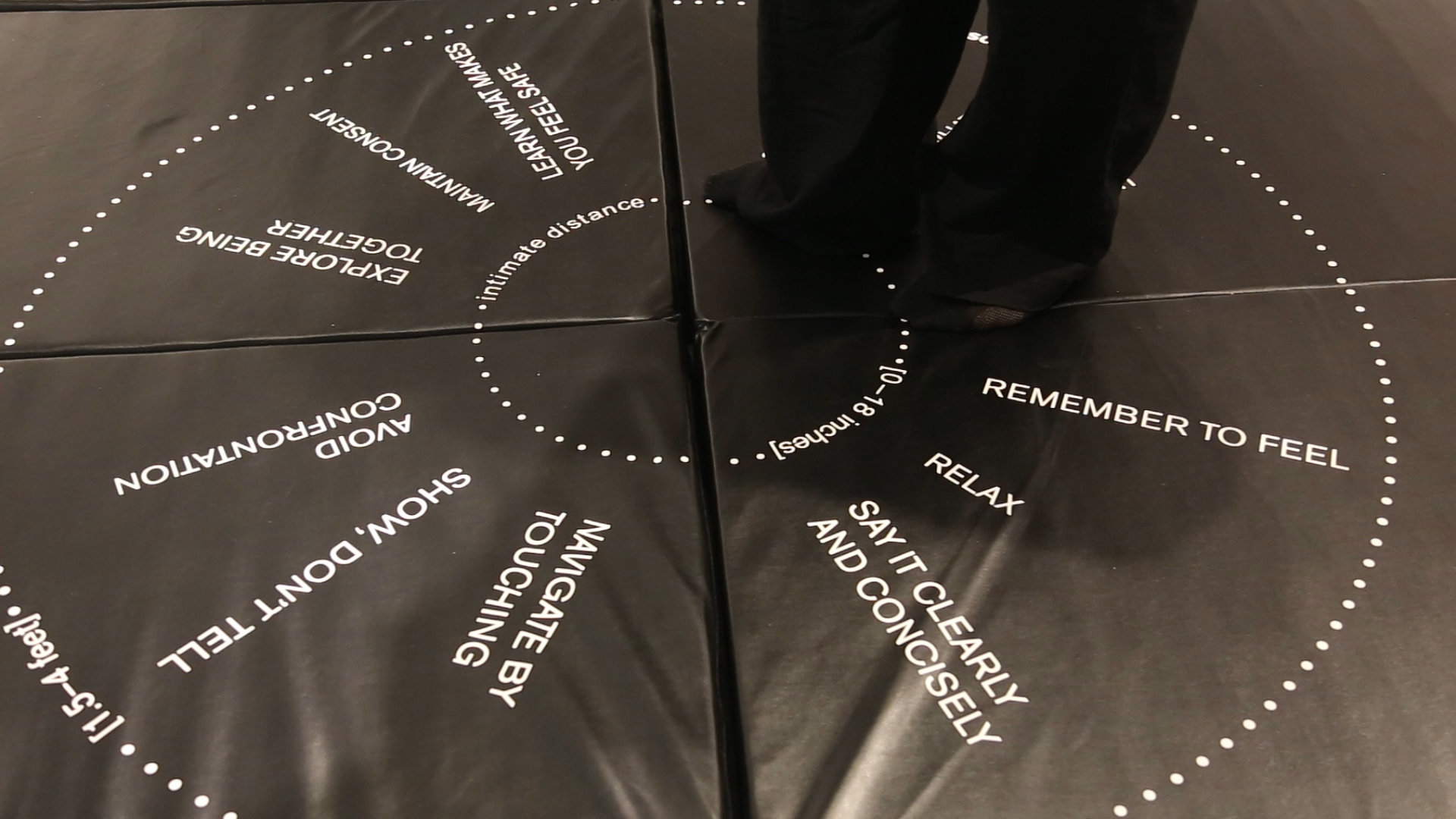 ---
Two figures wearing black and white sit with legs-crossed, facing each other, hand-in-hand on exercise mats (10'x8'). Nearby are an adjustable deck of black and white playing cards with various texts on the front and knot illustrations on the back. Other materials include: assorted bells, various hour-glass and time keepers.
---
—INTIMATE DISTANCE
IS THE SPACE OF WRESTLING AND LOVE-MAKING, ANXIETY AND EMBRACE
A open platform for exploring interpersonal communication, care, conflict, and consent.
wrestling embrace
is a customizable workshop framework. Designed to aide folks navigating questions of consent and care-taking in intimate relationships—the platform utilizes contact, contemplation, and embodied narrative excercises with a partner. Primary materials include a deck of playing cards (audio version forthcoming). Each card features a "relationship exercises."
Participants enact a series of 'choreographies of care' on an acompanying exercise mats that features a circular design organized around two distances: personal space [1.5-4 feet] and intimate space [0-18 inches]. Each exercise fosters quiet time for building mutual support between a partner or a caretaker, practicing clear communication, collaboration and conflict.
This project is still under development.

Email

to join or schedule workshops, writing, and design sessions. All workshops operate as a confidential queer/trans/crip inclusive cultural support space outside of clinical models.
Recent public workshops:
University of Massachusetts Amherst (MA)
OCAD University (ON)
Elizabeth Foundation for the Arts (NY)
Downtown Art (NY)
Upcoming public workshops:
Cleveland Institute of Art (OH)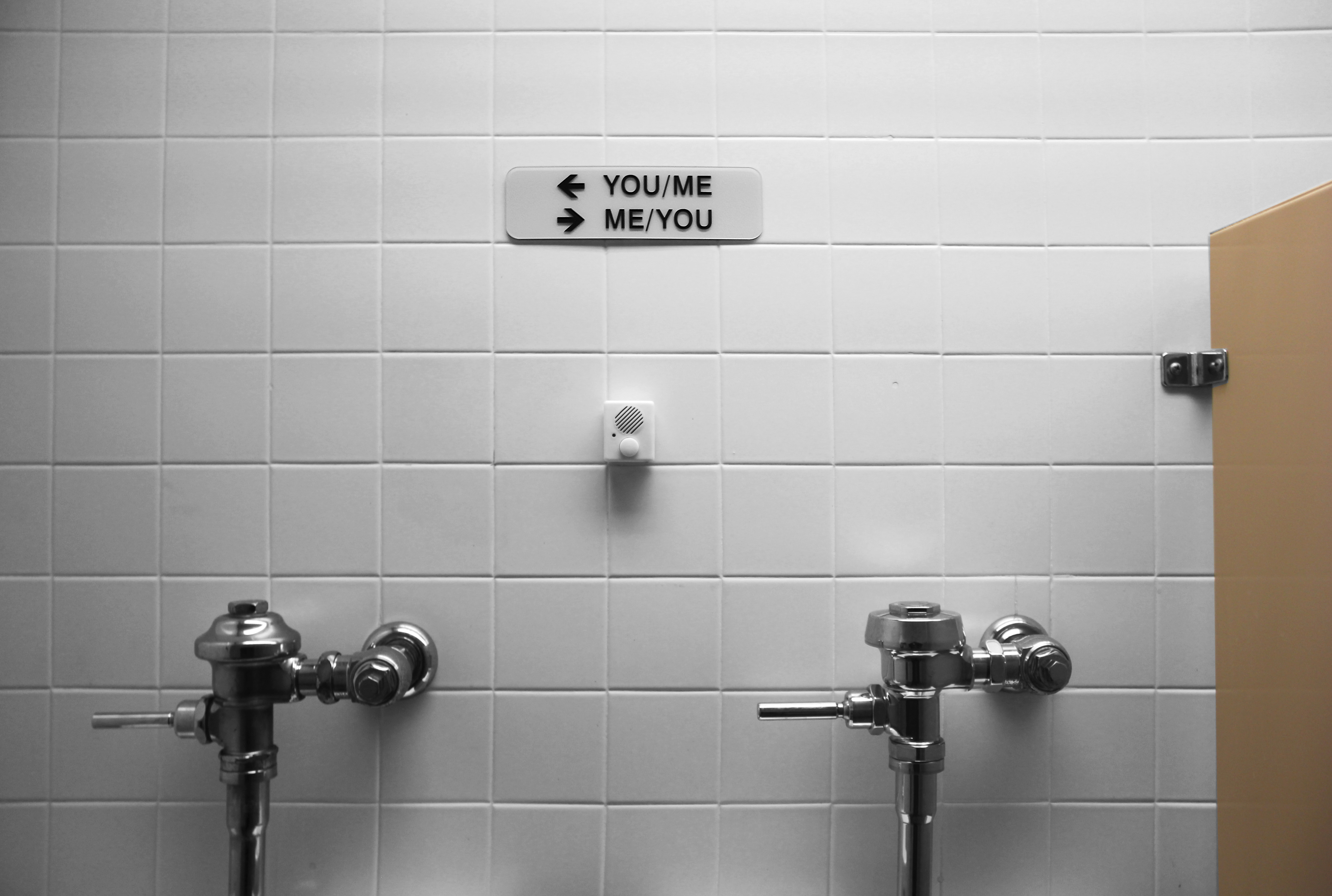 —WE ARE WHO WE ARE...SO WHO ARE WE?

signs is a multi-panel text intervention composed of small acrylic ADA-standard signs with braille and accompanying audio guide. The piece is designed to be exhibited in everyday institutional spaces, including the walls of the gendered bathrooms, hallways, and edges of banal spaces otherwise camouflaged in approximation to common signage, such as exit signs and wayfinding. signs creates situations that highlight where the designed environment enforces normative behaviour.


---
signs (of a limp wrist) has been installed in various spaces including outside gendered bathrooms and institutional halways. Small 5"x5" acrylic plaques feature text that read phrases such as "silently keep your distance," "Avoid flits of the writs," you/me, me/you," and "stand up straight."
---
Recently exhibited at The James Gallery, Center for the Humanities, CUNY Graduate Center (2017) and the Ammerman Center for Art & Technology, Connecticut College (2018).
---
IV. prototypes for white flags
silk flags, text
2016—ongoing
One white flags hangs from silver clips on a white wall, reading "we want to participate in this occasion" in black text.
—MUST COMPROMISE MEAN SURRENDER?

"White flags are an internationally recognized protective sign of truce or ceasefire, and often result in a request for negotiation between disputing parties in conflict. Subverting the flag's usual call for surrender, what if white flags signalled a truce calling for mutual understanding and collaboration rather than submission and surrender?"